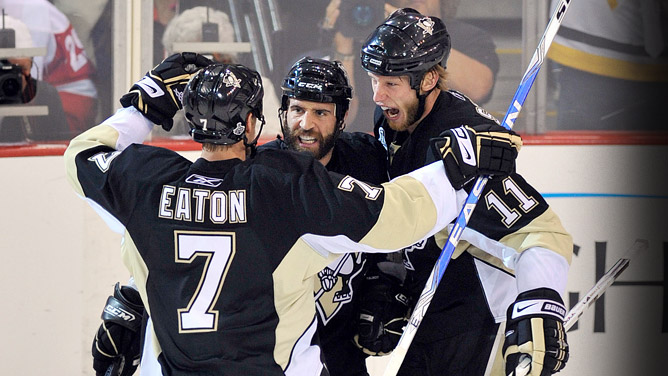 Time to seal this bitch up.
10:13 - "What sets off the metal detector first? The lead in your ass, or the shit in your brain?" - John McClane. He knows what it means to have the same shit happen to you twice. The Pens won't allow this series to get away from them in Game 4 this time.
10:14 - The Pens jumped out to a quick start, but the Wings took over after that. In the second, the Wings started strong, but the Pens rebounded with 3 goals in 6 minutes. I'm kind of relieved that the Wings are surging now. Also, Fleury is making a ton of great stops. He's on his game.
10:21 - Already just 12:00 minutes left. This period is blowing by. There is a lot of grinding and passing and clearing. No scoring opportunities. No whistles. I like how the Pens are handling themselves, but I would feel better if they get one more to put this game away.
10:28 - Yikes. 8 minutes left and the Big Red Machine is continuing to press. The Pens are in full containment mode, clearing and dumping everything. They just showed a replay of Crosby going down, and I believe that Wings bloggers are going to have a field day with this. He went down like he was shot by a sniper. Poor Sid.
10:37 - Not much to report on, but I saw this exchange on the ESPN conversation of the game. Told you the fanboys would love it:
"If a Pen did that to Zets, you would be crying your eyes out that there was no penalty called, and that the Pens are dirty."
------------
"He is saying even Heidi and Spencer could take a slash like that, which is true. That was nothing. It wouldn't cause them to fly through the air, mouth open wide enough for 10 dickss."
10:41 - Wow. Fleury shut the door on one of the best scoring chances that Detroit has had all game. Doc and Edzo love it. Jim Hughson loves it. The Igloo is going nuts for it. 2:30 left to go.
10:44 - Cheap penalty to prevent an empty netter (unlike the Wings, Pittsburgh knows how to convert freebies). Hopefully the Pens score a PP goal to pour salt in the mood.
10:46 - Final Score: 4-2. Pens hold serve. Woo hoo. It's a whole new series and the Wings are scared. The Pens score 4 for the second straight game while the Wings have never scored more than 3.
We're done here. Mr. Game 4 Hossa must have taken a sick day. Osgood looked like a little girl. Sid, Geno, and Gunner Staal were in superb form, and Fleury was amazing. Is it fair to say that the Pens are playing their best hockey at the absolute best time? The Wings are gassed. This is the tipping point.
Besides Crosby kicking it into gear, the biggest thing to take away from tonight is that, for the first time this series, a goalie has allowed more than 3 goals.
Is it too much to hope for a win in the Joe and a chance to celebrate a cup on home ice? Let's not get ahead of ourselves. The Detroit fans will be hostile, but the team is dead tired. And no one can stop Conn Smythe Malkin right now. NO ONE.
PENS IN 6