*Posted February 7, 2009*
Like my Penguin Top Ten after the Stanley Cup Finals, this one honors the Super Bowl Champion Steelers. Remember, this isn't the ten best Steelers, it's the ten most important Steelers of the 08 campaign.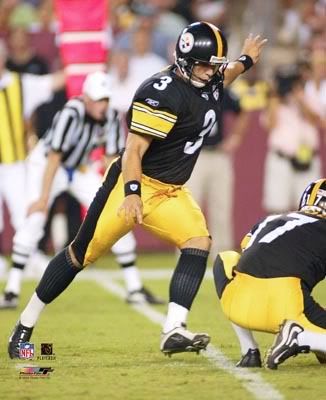 10. Jeff Reed - I'm not big on kickers in general, but Jeff Reed not only has been solid for years, but I think he was especially key during this season. Throughout the year, Pittsburgh's red-zone offense was pretty average at best and had to rely on Skippy's toe a lot. His only bad miss that I can think of was the first half miscue at Tennessee, probably wouldn't have really mattered that much anyway. The other big plus for Reed is that he has improved on his kickoffs, a good thing for a defensive-minded team. Not many kickers have made it at Heinz Field, Kris Brown and Todd Peterson come to mind, but Jeff Reed has been a success in the past and especially on this Super Bowl winning team.
9. Hines Ward - Without the normal solid running attack, the passing game had to step-up tremendously. Hines had another pro-bowl caliber year, 81 catches, over 1000 yards, four 100 yard games, and countless upon countless huge catches on third down. For me, his biggest play of year may have been the jaw-breaking block/hit on Cincinnati's Keith Rivers. He took a slight step back in the playoffs mainly because he got hurt against Baltimore. Since he was a basic non-factor in Super Bowl, he is slightly low on this list, but was still integral to Pittsburgh's year.
8. LaMarr Woodley - This year's defense was arguably the best of my lifetime as a Steeler fan. Probably the core of the entire unit was the play of the outside linebackers. Defensive Player of Year James Harrison broke the Steeler record for sacks in a season, and his counterpart LaMarr Woodley got 11.5 sacks during the year and 6 big sacks during the playoffs. Woodley could not be blocked one-on-one by an offensive tackle. Everyone's favorite, Joey Porter, often got dominated by good tackles. LaMarr Woodley's emergence in his second year only bolstered an already solid defense.
7. James Farrior - Farrior doesn't fill up the stat book like Woodley or Harrison and doesn't make spectacular plays like Troy Polamalu, but he might be the most important Steeler defender. He's a tackle machine that drops back in coverage, stuffs the run, and can rush the passer. He makes an overrated Larry Foote better than he probably is. He'll be a great asset to the still-somewhat-wild Lawrence Timmons whenever he enters the starting lineup. Farrior has been one of Pittsburgh's better free-agent signings in recent memory, and I have often said that he is one of the most underrated players in the entire NFL.
6. Aaron Smith - Someone from the defensive line, the backbone of the best run defense in football for the past decade, had to be on this list. I think Pittsburgh overrates Brett Kiesel a little bit. I still see him as Kimo von Oelhoffen's backup. Casey Hampton remains a force but his best years are probably behind him. This brings me to Aaron Smith. Remember last year when he got hurt? The defense tanked, played terrible. Like James Farrior, Smith will not have any major "wow" stats, he is just the consummate performer. A great run-stopper, him and Farrior are arguably the glue of the entire defense that enable the great playmakers to make plays.
5. Ike Taylor - A lot of Pittsburghers blast Ike. I'll admit, he probably has some of the worst "ball skills" a cornerback can have, but at the same time, has a knack for playing well against pro-bowl receivers. Regular season: Randy Moss, Terrell Owens, Chad Johnson, etc were pretty much shut down by Ike. People will talk about the Super Bowl, he got beat, albeit bad, on the long touchdown. Fitz's first TD, Ike was there, but the ball skills came into play. I'm still convinced that Fitzgerald's first TD hit the ground, too bad Al Michaels wanted Arizona to win sooo badly.
Al Michaels on Larry Fitzgerald's first TD: "What an amazing catch by Larry Fitzgerald!"
Al Michaels on Santonio Holmes "game-winning" TD catch: "The referees are going to have to take a look at that one."

Ike Taylor's blanket coverages allows Troy to roam free and Ryan Clark to unleash concussing hits. The next time you complain about Ike, think back to Chad Scott and Dewayne Washington.
4. Santonio Holmes - Santonio's regular season was pretty sub-standard with only 55 catches, a little over 800 yards, and a mid-season marijuana arrest. But his work in the playoffs make him an easy choice for the top five. His punt return turned the San Diego game around, in general he is becoming a very dangerous punt returner. The touchdown against Baltimore was Pittsburgh's only offensive TD of the entire game. Even with those postseason accolades, he shined in the Super Bowl. Big catch after big catch on the final drive, the long reception to get the Steelers within the five yard-line, and of course the game winner that will go down in Steeler history. Ben would have probably gotten my vote for MVP, but I have no problem with Santonio. Holmes' less-than-stellar season was certainly made up for with his performance during Pittsburgh's Super Bowl winning playoff run.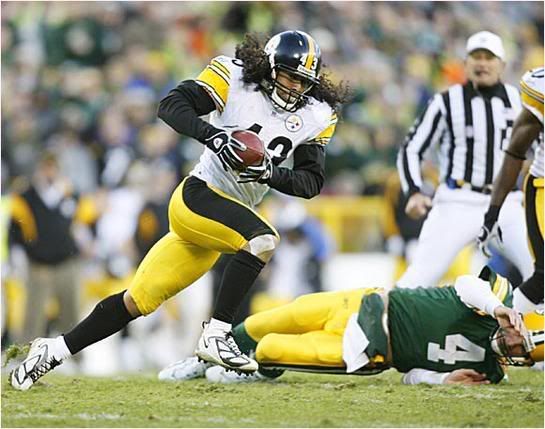 3. Troy Polamalu - Troy and Hines are arguably Pittsburgh's two most popular Steelers. Hines is regretfully in the decline of his career while Troy is only reaching his peak, 2008 may have been his best year. He was around the top of the leaderboard in interceptions throughout the regular season and who could forget the one-handed diving catch against San Diego. He is the sparkplug for the entire defense, can play the run, pass, and tackle effectively. His pick six against Baltimore was the play of the year prior to the Super Bowl. Troy makes it real easy to forget about Lee Flowers.
2. James Harrison - Remember all of the "fairweather," "clueless" Steeler fans that were so shocked when the Rooneys didn't resign Joey Porter. What are they saying now? James Harrison was a pro-bowl force last year and only heightened his output to the extreme in 2008. He broke the Steelers signal-season sack record, seven forced fumbles (dominated New England's Matt Light), and can play good pass-coverage. With all that, he was an easy choice for Defensive Player of the Year. Like Woodley, Silverback is literally unblockable one-on-one. Referees could call holding on every play in regards to Harrison, and luckily for Steelers fans, Terry McCauley called some holdings in the Super Bowl. The 100 yard interception return for a TD should go down in Steelers history right next to the Immaculate Reception and Ben's tackle against Nick Harper. Professional Poker player Phil Ivey supposedly had an 800 thousand dollar bet on the Cardinals first half line which was (+4). The bet looked good even if Arizona wouldn't have scored down on the goal line with the game at 10-7, but with Harrison's int, the Steelers went into half-time leading by ten. Ivey lost 800 grand on that single play.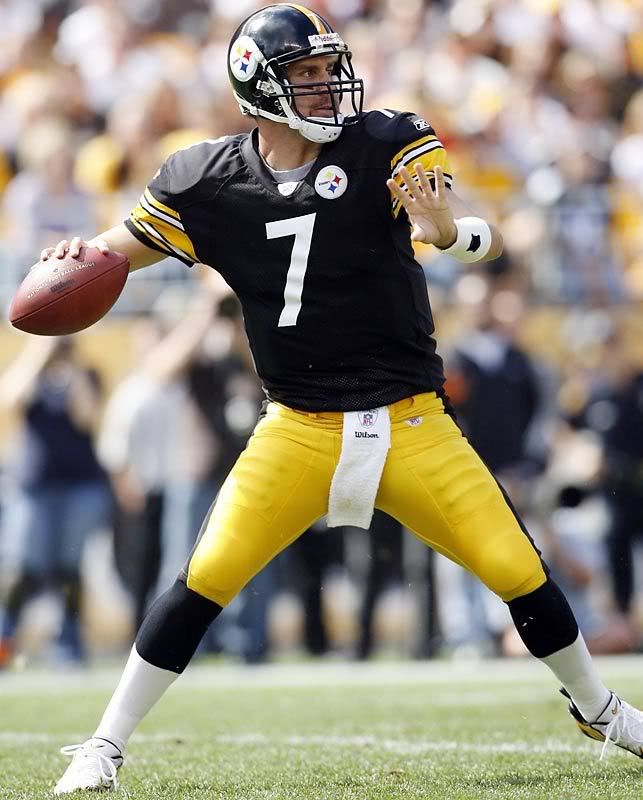 1. Ben Roethlisberger - I've come around late on Ben. For every girl I saw with a number seven jersey, I thought back to his horrible play in the 2004 playoffs or the 2006 season after the motorcycle accident. I was wrong. He, more than any other Steeler, is the most responsible for the two recent Super Bowls. Some Bill Cowher teams in the 90s were probably better than the 2005 team, but they didn't have Ben. The Steelers had a great defense this year, but wouldn't have won without Ben. For the most part, the offensive-line was below average almost all year. Ben got hit, got up, and led fourth-quarter game-winning drives on a weekly basis. The biggest regular season game of the year was at Baltimore with the Roethlisberger fourth quarter drive. He played mistake free against SD and Balt in the playoffs and led "The Drive" against Arizona in the Super Bowl. If you put a gun to my head, I would probably still take Tom Brady, but I think Ben is easily the second best quarterback in the NFL. The Manning brothers are skilled but don't have the toughness, guts, and flat out balls that Ben does.

Big Ben: (8-2 in the playoffs, 2 Super Bowls)
Peyton Manning: (7-8 in the playoffs, 1 Super Bowl)
Eli Manning: (4-3 in the playoffs, 1 Super Bowl)

Thank you Ben Roethlisbger for these two Super Bowls and making it such a great time to be a Steelers fan.