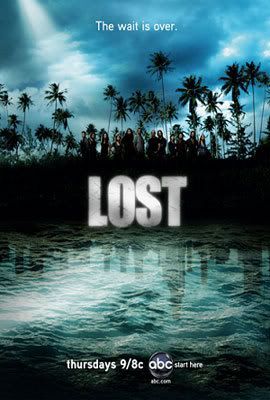 *Posted January 11, 2008*
Along with my power rankings at the beginning of Season 4, I made predictions for each character, some 25 in all. I'll go through some of my bigger hits and misses of last year, and after the premiere next Wednesday, I'll make several more. If my LOST prognosticating is as good as my NFL prognosticating, expect many misses.
JOHN LOCKE WILL HAVE AN ISLAND FLASHFORWARD - Wrong. Never happened, although it probably would've been great. Hopefully we get some this season.
BEN LINUS WILL LEAD THE LOSTIES TO THE TEMPLE - Wrong. Apparently it's not for them, only the real Others. Ben eventually left the Island anyway.
JACK SHEPHARD WILL HAVE MORE DADDY ISSUES - Right! But, not just because of his relationship with his dad. It turns out that Jack also had issues of being Aaron's daddy! Ingenious prediction.
JULIET BURKE WILL PHYSICALLY EXPRESS HER LOVE FOR JACK - If kisses count, I'm right. But they never had sex. I'm certain that if Jack didn't have appendicitis (stupid storyline), it would've happened.
SAYID WILL ASSASSINATE ALVAR HANSO - Pending.....
SAWYER FORD WILL DIE THIS SEASON - Wrong! A guy can dream though...
CHARLOTTE STAPLES CENTER LEWIS WILL SEE A POLAR BEAR - Wrong

PENNY WILL FIND THE ISLAND - Right! People who thought the freighter would be their ticket off the Island were wrong. Penny saved the day.
FRANK LAPIDUS WILL FIND THE PILOT'S BODY - Way wrong.
FARADAY WILL ENCOUNTER THE MONSTER - Way wrong.
JIN WILL SPEAK FLUENT ENGLISH IN A FLASH FORWARD - Way wrong.
MILES WILL TALK TO JACOB - Also way wrong.
Final count: 2/12 on LOST predictions. Whatever.