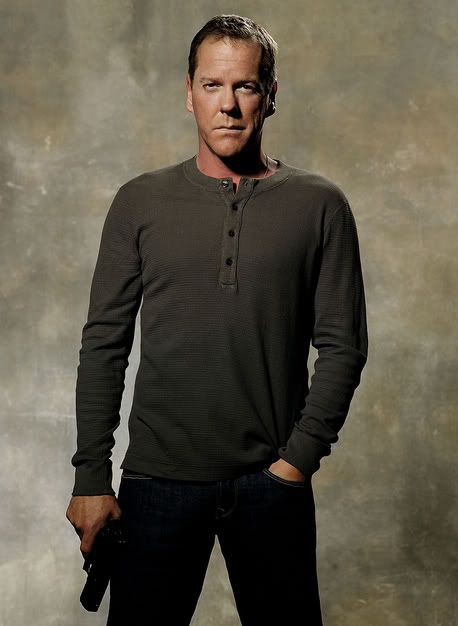 *Posted January 11, 2009*
The last time I was committed to a two-day premiere of 24, it was Day 5, and we were shocked by the assassinations of President David Palmer and Michelle Dessler. After it was all over, we had one of the best seasons of 24 ever (The subsequent deaths of fat Edgar Stiles, Lynn "Samwise" McGill, the return on Kim Bauer with boyfried C. Thomas Howell, the death of Tony (NOOOOOO!!!!!!), and the very cool, very evil President Logan). All that goodwill was undone by the turd sandwich of Day 6, which I won't even talk about. So, yesterday and Sunday I summoned the courage to commit to another 24 hours because of the promise that Tony Almeida would return. Here's a brief review.
IT ROCKED!!!!! TONY DIDN"T DIE WHEN ROBOCOP STABBED HIM WITH A SYRINGE!!! HE'S BACK AS A BAD GUY, EXCEPT HE'S REALLY JUST DEEP COVER FOR THE ROGUE REMNANTS OF CTU (BILL AND CHLOE!!!!)!!!! WOOOOHOOOO!!!!
Okay, so I'm hooked again, but I don't want to spoil anything more. All I will say is this: There are probably 5 single seasons of television that shaped my tastes for television today.
5. The Office (UK)

4. Survivor: All Stars: They showed this right after the Super Bowl and I was instantly drawn. After that, I bought whatever seasons were already out, and have watched every season since.
3. Firefly: They only had one season, but I shelled out $50 for 13 episodes after only seeing about 3 of them on TV. It was a huge leap of faith, and it paid off.

2. 24 Day 3 (Season 3): I used to just make fun of the show, but the 3rd season with the virus outbreak pulled me in and hooked me for good. Because of that, I ended up buying seasons 1 and 2 and breezing through them in a few weeks. The marathon where Dave and I watched seasons 2, 3, and 4 before settling in for the awesome Day 5 premiere is another great sophomore year memory. (24 was that important to me, which is why I'm opening my heart back up to Bauer and co.)

1. LOST season 1: Because of our young Republican meetings, I couldn't watch it on TV. So I refused to read anything about it and waited until the show came out in August. I like to say that I singlehandedly addicted 10 or so people to LOST. It's like the Tony Dungy coaching tree. I'm very proud of it. Watching the first season of LOST in about 4 days and then catching the premiere of Season 2 is one of my best college memories (again, sophomore year). Dave and Andy would probably agree.