*Posted January 18, 2009*

10. THE NAME OF DESMOND'S SPAWN

This probably won't have as much of an impact on pop culture as the name of Ross and Rachel's (after the birth of their baby, 'Emma' went from late teens to top 3 most popular girls name). Will it even be relevant to the show? Will they even reveal it? Any chance he honor's one of his LOST buddies (Kelvin? Charlie? Frank?).
PREDICTION: Because I have absolutely no idea, my guess is that honor's Faraday and myself by naming his boy Daniel.
9. WHEN WILL JULIET START SUCKING ON SAWYER'S FACE

This long rumored possible relationship has to start somewhere. We know that the Oceanic 6 are off the Island for roughly THREE years before they decide to go back. It only took Sawyer a month to wear down Kate, but she's kind of slutty. Barring an unforeseen death of Juliet or Sawyer, it's hard to believe they won't hook up. Sure, it'll probably start as a sympathy screw because Sawyer will be vulnerable after Kate supposedly dies. It doesn't matter. I will hate Juliet if she does this. Bigger question: Might they end up being Adam and Eve in the caves?
PREDICTION: We'll see them kissing before Episode 9.

8. WHAT ARE THE 6's INTENTIONS AFTER RETURNING

Trying to get back to the Island seems to be the story arc for the season, so it makes sense that they probably end the season with the 6's return to the Island. We would still have one more season to see what happens with everyone back together again, but maybe this season we'll learn of their intentions. Obviously Jack wants to save everyone who was left behind, but that can't be Ben's gameplan. And supposedly Ben isn't allowed to return to the Island since he's the one who moved it. Will their intention be a simple rescue and extraction? Will they stick around to clear out any hostiles causing trouble? Will they dig in and live on the Island? This is a question I suspect they will reveal with subtle clues over the coming months.
PREDICTION: It is the destiny of every person from that plane crash to never leave the Island.

6. WHAT'S THE FATE OF THE LOVE RECTANGLE

So Kate really loves Sawyer, but Sawyer is left behind with Juliet. Jack really loves Kate, and even gets engaged to her, but loses her because he knows she still loves Sawyer. Juliet really loves Jack, but after the appendectomy she realized that Jack really had feelings for Kate and no one else. And despite loving Kate, Sawyer stays behind because he doesn't think he can compete with the Doc in the real world. So what happens when they all meet back up? If Sawyer and Juliet are hooking up, what will happen between him and Kate? Does the fact she happens to be raising a 3 year old change anything with Sawyer? Do we even care about this anymore, or would we rather see Faraday and C.S. Lewis making scientist babies?

PREDICTION: Kate + Sawyer 4ever. Juliet and Jack are better off without them.

5. WILL BEN MAKE GOOD ON HIS THREAT TO KILL PENNY

Ben is often very selective when he decides to reveal the 'truth,' but something tells me he was being brutally honest when he told Chuck Widmore that he would kill his daughter. And as Miles tells us, "Seeing as how week ago he was tied up and now he's eating pound cake, I'd say Ben's a man who gets what he wants." Ben is an ice cold killer when he needs to be, but don't you think that if the LOSTies knew he greased Penny (and probably her kid too), they would no longer be in league with him?

PREDICTION: God I hope not, but my gut says it'll happen

4. WHEN WILL THE 6 REACH THE ISLAND THIS SEASON
I already kind of answered it, but this is one of the big questions this season. Again, I think the arc points toward them getting back, probably in the season finale. But some questions that go along with it. How will they reach the Island (boat, plane, etc.). Most importantly: WHEN WILL THEY REACH THE ISLAND?!?!?!!?! In past seasons, time was relative and a little off, but on a larger scale it stuck together (remember Ben's gay current events update to Jack in the Hydra: W wins, as do the Sox). But moving the Island changes the game completely. What if, this season, events off the Island follow the Oceanic 6 three years later (we already know the big events that happen to them in between), but the LOSTies are still on normal Island time? What if only a month goes by on the Island before Jack shows up with his Gettysburg beard? This seems unlikely since Locke is able to find time to travel off the Island for an extended period of time. And Ben seems to have knowledge of some on Island events. But my gut says the writers are pulling out the Ken Whisenhunt bag of tricks this season.
PREDICTION: The 6 return in the finale only to find that Island time has progressed one month.
3. THE TROUBLE ON THE ISLAND
In the finale, Ben tells Jack that after they left the Island, the remaining LOSTies were in a bit of a jam. With the commandos out of the picture, it seems the Others can go back to the Barracks and party like they have been. A first look has Sawyer and Juliet held by soldiers, but weren't Widmore's taken out? Are they the Others battalion? They seem to be the most immediate threat to Sawyer and Co., but would Locke really order a strike against his former tribe? I think not.
PREDICTION: No clue. The most obvious conflict is Others vs. LOSTies: Rematch in Texas.
2. THE DEATH OF J. BENTHAM
Jeremy Bentham, aka Locke, returned to the Island and spoke to most of the Oceanic 6 (plus Walt). But somehow he ends up dead. This is as wide open as anything on the Island. How and why did Locke really die. What are the circumstances surrounding it? Everyone is betting that the Island will resurrect Locke once they bring his corpse back (much like it resurrected Christian?), so it doesn't make sense that one of the good guys killed him. I'm itching for the answer to this mystery, but there's no telling when they will tell us.
PREDICTION: Widmore tries to "persuade" Locke into giving up the location of the Island. By persuade I mean he hangs him.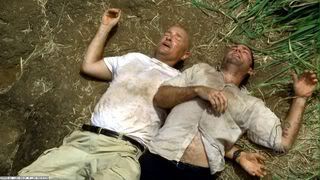 1. JACKS TALK WITH BENTHAM
The showdowns between Locke and Jack has become less frequent over the years. In season one, every other episode the two were having compelling chats about fate and destiny and all that good stuff. By season 4, they hated each other and only talked in the premiere and finale (both great talks). It seems that in season 5, the number of talks will dwindle down to one, and it's a biggie. Jack was the most fervent believer in the Island cover-up story, and didn't entertain any talk of returning. But at some point, everything changed. He became depressed junkie hell bent on getting back, and we know the turning point had to do with his conversation with Locke. Imagine that for one second. In one talk, Locke is able to convince Jack to go against all his beliefs. He gets Jack to understand that they never should have left, that they were there for a reason. One of my favorite finale moments was Locke telling Jack something like "watch what I'm about to do next" with a big smile on his face. I suspect their impending conversation will be that moment times a million.
PREDICTION: We already know the substance of their conversation, but where will it take place? Good money says Jack's apartment, but I'm guessing it'll be something outrageous like Locke being a patient of Jack's at the hospital.