*Posted March 15, 2009*

The death of yet another former pro wrestler, Andrew "Test" Martin has inspired me to rank the best wrestlers of all time. Taken into account are their skills, achievements, and impact on the company/fans. You won't find the short-lived overhyped superstars (Bill Goldberg anyone?), the murderers (Benoit) or guys I just flat out hate (John Cena, HHH) on this list. Some honorable mentions have to go out to some of my favorites (Million Dollar Man, the Bushwhackers, Razor Ramon, British Bulldog, Mankind, Roddy Piper, Jake Roberts, and many many many others) who made pro wrestling a blast from 1983 to 2003. After doing this list, I plan on spending the rest of the day on YouTube watching the wrestlers below. Next to their names is a link to their entrance music.
10. STONE COLD STEVE AUSTIN (music)
Real Name: Steve Austin (formerly Steve Williams)
Nicknames/Catchphrases: Austin 3:16, the Texas Rattlesnake, "Gimme a Hell Yeah!"

Finishing Move: Stunner

After feuding with the Hitman at the tailend of his career, Austin catapulted to fame and was the face of the company during the "Attitude" era. Fans loved his middle-fingering, beer-drinking, camo-wearing antics, and before long, as my sister says, Austing was "lodging pro wrestling firmly in America's trailer courts." I couldn't agree more. I could never understand why so many people thought he was cool and badass, and I never will. Remember when he drove the 16-wheeler beer truck into the arena? Stupid. Remember when he was "run over" by a car in the parking lot? Lame. Also, one of the great trademarks of a wrestler is knowing when to graciously pass the torch. Some guys like Hulk Hogan refuse to do it, and Stone Cold was one of them. He repeatedly left the company because he didn't like the stories that were written for him (specifically, losing to other wrestlers). Eventually, Austin faded away, but will be inducted this year in the WWE Hall of Fame.

Did You Know - Since he's not with the WWE anymore, he cannot refer to himself as "Stone Cold," as that is trademarked by the WWE. Also, he was arrested in 2002 for beating up his wife, but she claims it was roid rage.

Real Name: Steve Borden

Finishing Move: Scorpion Deathlock, Scorpion Deathdrop, Stinger Splash
Number of WWF/WCW World Titles: 6
Arguably the greatest wrestler of all time to never wrestle with the WWF, Sting is a 6-time WCW World Champion, and has also held titles with NWA and TNA. Even when he was wrestling in the early 90s with his spikey bleached-blonde hair and brightly painted face, Sting was consistently one of the most popular wrestlers in the business, and was one of the main reasons WCW stuck around as long as it did. In the late 90's, he went to his Crow inspired costume (black hair, black and white face paint, black costume) and was the leader of nWo Red (other members included Macho Man and Lex Luger). Before I jumped back on the WWF bandwagon for the Attitude era, I watched Nitro every Monday hoping to see him fight. But because WCW is retarded, they would hype a nWo Red vs. nWo White match that ended up including nobodies. Most nights Sting would just show up for a couple minutes at the end, rushing out of the crowd (sometimes he would just linger in the rafters) with his trenchcoat to beat someone with a baseball bat (best part of the night). He still wrestles with TNA.
Did You Know - Steve Borden is a big time born again Christian, and holds trademark rights on the name "Sting."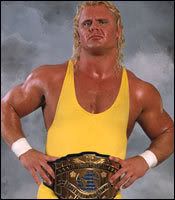 Real Name: Curt Hennig

Finishing Move: The Perfect Plex
Number of WWF/WCW World Titles: 0
Widely considered by his peers to be on of the best technical wrestlers of the 90's, Mr. Perfect was best known for his reigns as the Intercontinental Champion. When he started wrestling as Mr. Perfect, he went undefeated for more then a year before losing a solo match at WrestleMania VI to Brutus Beefcake. Although he was a rising star in the business, back injuries hampered him in at various points in the 90s. On the sidelines, he was a genius color commentator, playing the heel voice opposite Vince's play-by-play. After a 3 year stint in WCW, Mr. Perfect returned to the company in 2002 at the age of 43 to complete in the Royal Rumble. His skills continued to impress the company brass, and he was once again wrestling full time, but a brawl with Brock Lesnar on a plane ride that resulted in HHH being thrown into an emergency door left Mr. Perfect with the pink slip. The next year, he overdosed on cocaine (along with steroids and painkillers) and died. In 2007 he was inducted into the WWE Hall of Fame.

Did You Know - Hennig is credited with coming up with the "Heartbreak Kid" moniker for Shawn Michaels. Since his 280 day reign as IC Champ in 1990, no one has held the title for a longer period of time.
7. MACHO MAN RANDY SAVAGE (music)
Real Name: born Randall Poffo
Nicknames/Catchphrases: "Snap into a Slim Jim, ohhhhhhh yeahhhhhhhhh!!!!!!"

Finishing Move: Flying Elbow Drop
Number of WWF/WCW World Titles: 6

Despite his stinky entrance music, the Macho Man has had a long and successfull career in the WWE and WCW. Savage peaked early and won an 14-man tournament for the WWF Title at Wrestlemania IV, and then defended the title for 371 days (one of the longest reigns in history). At Wrestlemania VII he lost a retirement match to the Ultimate Warrior (let's face it, UW got up from 5 Savage elbow drops, there was no way he was going to lose), but was later reinstated. His onscreen courtship of manager Miss Elizabeth ended in a wedding "the Match Made in Heaven," but things weren't so great for the happy couple. Ric Flair made claims of having sex with her, and even presented photoshopped pictures of the two, and this led to title match at WrestleMania VIII, where Savage regained the title. Savage and Miss Elizabeth divorced later that year, and she died of drug overdose in 2003. Macho Man was a successful color commentator and even did some acting roles (he was Bonecrusher in Spider-Man), and a DVD is due out this year on his career.

Did You Know - Macho Man released a hip hop album in 2003 where he challenges Hulk Hogan to a real life fight based on some beef the two have.
6. THE UNDERTAKER (music)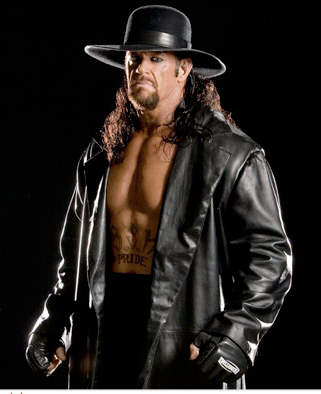 Real Name: Mark Calaway

Nicknames/Catchphrases: the Deadman,

Finishing Move: Tombstone Piledriver, the Chokeslam
Number of WWF/WCW World Titles: 6

Although being hailed from Death Valley, the UT is really from Houston, Texas. His Undertaker persona caught on with fans because of his ability to "not react" to attacks from opponents. Managed by Paul Bearer (get it?), he made casket matches, buried alive matches, and body bag matches a lot of fun. He had a rivalry with his half brother Kane (was just an Undertaker copycat with purple gloves (or was he the gray one?) but later became the Big Red Machine version). He went on to form the Ministry (an evil wrestling cult) and would perform sacrifices on other wrestlers to recruit them. He fought in one of the greatest matches of all time (the Hell in a Cell match against Mankind), which you can check out below. Things started to get laughable when he took on his American Bad Ass persona (leather pants, motorcycles) but later went back to being the Deadman. His trademarks include sitting straight up after getting knocked down, rolling his eyes back into his head, and do the walk-along-the-ropes arm smash move. He is a modern day wrestling legend (a perfect 16-0 at WrestleManias) and is still wrestling today.

Did You Know - The UT had a small cameo in "Suburban Commando" as a bounty hunter with a kid's voice. Caloway tattoed his wife's name on his throat (the most painful tattoo he's ever got), but the tat is digitally removed from WWE promo photos.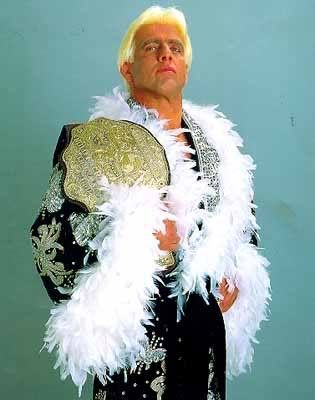 Real Name: born Richard Fliehr

Nicknames/Catchphrases: The Nature Boy, "WOOOOO!!!!" "If you wanna be the best, you gotta beat the best"

Finishing Move: Figure Four leglock

Number of WWF/WCW World Titles: 8 (16 Total if you count his NWA titles)

A founding member of the legendary Four Horseman, a group of rule breakers that ganged up on others and controlled the major NWA titles, Ric Flair was known in the ring for his refusal to cooperate with other wrestlers. Nonetheless, his popularity with the fans and his incredible longevity has resulted in the longest, most storied career in professional wrestling. In 2008, he became the only active wrestler to be inducted into the WWE Hall of Fame, and when announced his retirement on Raw that year, dozens of current and former wrestlers came out to give him a standing ovation with the crowd. In fact, this one of the rare events when wrestlers would come out as themselves (not their personas) to praise the man (Although they taped if for his DVD, they would not show the Undertaker and Vince McMahon coming out to honor him on TV because they didn't want the fans to see them out of character). His trademarks include getting slapped in the chest, cutting open his forehead, and stumbling out from the corner after hitting the turnbuckle and then falling on his face. Flair has had many off-screen feuds with many wrestlers, including Bret Hart (He thinks Bret over-exploited Owen's death and was never a big draw in the States), Mick Foley ("a glorified stuntman), and Hulk Hogan (for whipping his son with a belt during a match). In spite of all the controversy, the Nature Boy is adored by fans and respected by everyone in the business.

Did You Know- Flair is a big Republican and has considered running for the Governorship in North Carolina. When the Hurricanes score a goal, a video of Flair appears on the big screen saying "that's another Carolina Hurricanes goal....WOOOO!"
4. SHAWN MICHAELS (music)
Real Name: born Michael Shawn Hickenbottom

Nicknames/Catchphrases: The Showstopper, the Heartbreak Kid,
"I got two words for ya...Suck It!"
Finishing Move: Sweet Chin Music or the Superkick

Number of WWF/WCW World Titles: 4

Michaels started as a member of the Rockers, but after 3 years, broke out into singles matches as his boytoy persona. On his rise to superstardom, Michaels won two of the greatest matches in WWF's history: A ladder match against Razor Ramon for the IC title at WrestleMania X, and the 60 Minute + Overtime Iron Match for the WWF Title against Bret Hart at WrestleMania XII. Michael's is also famous for offscreen antics with the Clique and his role in the Montreal Screwjob. The Clique was a group of him and his buddies (Razor Ramon, Diesel, and HHH) who had a lot of clout with the management. Before Hall and Nash left for WCW, Michaels and HHH joined them in a ring for a farewell embrace, but that contradicted their heel/face statuses and broke a big rule of McMahons. As punishment, HHH was demoted and Austin was instead allowed to win the King of the Ring, and that led to his 3:16 explosion. I'll refer more to the Screwjob later. Michaels' trademarks are doing body splashes from the top rop and hitting the turn buckle back first and flipping up over the ropes. HBK went on to form DX, another integral stable in the Attitude era, but was forced to take a lot of time off after suffering a nasty back injury against Stone Cold. He has since returned as has had many feuds with HHH, McMahon, Kurt Angle, Hogan, and even reformed DX. He is still wrestling today.

Did You Know- Michaels posed in a non-nude layout for Playgirl, but didn't know until after the fact that the magazine has a mostly-homosexual readership.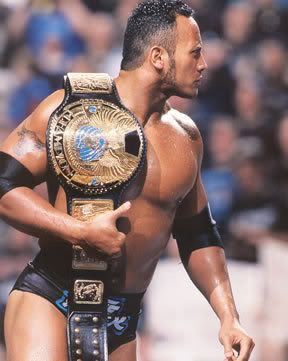 Real Name: Dwayne Johnson

Nicknames/Catchphrases: The Brahma Bull, the People's Champ, the Most Electrifiying Man in Sports Entertainment, "If you SMELLLL.....what the Rock....is cookin!" "Know your damn role!" Sticking different thing up various candy asses, and many other sayings

Finishing Move: The Rock Bottom, the People's/Corporate Elbow

Number of WWF/WCW World Titles: 9

Before becoming a movie star, the Rock and his people's eyebrow and his goofy long sideburns were the highlight of the Attitude era in the WWF. His charisma and his skill with a microphone is unmatched in the history of the sport, as he would often stop midway through a match to grab a TV headset and taunt his opponent. Despite being a heel when he was in the Corporation, his entertaining interviews and promos and endless catchphrases ("Finally....the Rock....has come BACK...to ) and insults (jabroni) made him a fan favorite. He had awesome feuds with Mankind ("I quit" match, Super Bowl Halftime Heat) and the loser redneck Stone Cold (see below). While teaming up with Mankind (The Rock N Sock Connection), Foley did some sort of "This is your past" segment with the Rock where he brought his former girlfriend and gym teacher. Somehow, the segment was one of the highest rated segments in Raw's history. It was around this time that he left for Hollywood to pursue movie roles, but would often come back to WWE for title runs. He hasn't fought a match since March of 2004 and can currently be seen in Disney's "Race to Witch Mountain."

Did You Know- The Rock is in the Guiness Book of World Records for earning the highest salary as an actor in his first starring role ($5.5 Million)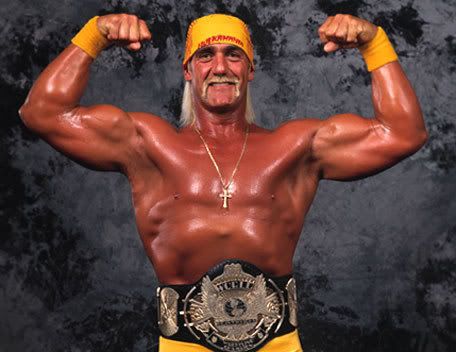 Real Name: Terry Bollea

Nicknames/Catchphrases: Hulkamania, the Immortal, Hollywood Hogan, "Say your prayers, eat your vitamins." "Hulkamania is going to run wild on you!"

Finishing Move: Big Boot followed by the Leg Drop

Number of WWF/WCW World Titles: 12

Hogan is responsible for making Wrestling famous in the 1980's as an American hero babyface in yellow tights. Vince McMahon couldn't have been more right when he handpicked the Hulkster to be the face of the company during their push for national promotion. He went on to lead the WWF through the 80s and early 90s and the biggest wrestling star in the world. He fought the absolute number one match in history (Hogan v. Andre, WrestleMania III), and went on to hold the WWF title a total of 6 times for a period of 2,185 days. By the early 90s, steroid use was rampant in the WWF, and Hogan was forced to testify in court on the scandal. He admitted to using steroids for 12 years, but maintained that Vince McMahon never distributed them. After this, he joined the WCW and soon turned heel as Hollywood Hogan. It didn't really matter, because at any point during his time at WCW and subsequent to the WWF, the crowd loved him. Despite going up against the most popular wrestler at the time (the Rock) at WrestleMania X8, the crowd obviously favored Hogan. He eventually left the company in 2003, but would still return for a match every now and then, and was inducted to the Hall of Fame in 2005. It can easily be said the Hogan is the most influential wrestler of all time. When he does his trademark gestures, it doesn't matter how old he is, it still gives me chills. When he's on the ground and starts getting to his knees slowly and starts shaking his crazy looking face even though he's taking punches, and he continues to get up and points to the guy and to the crowd, you just know the 3 punches-body slam-leg drop combo is coming, but you love seeing it every time. It doesn't matter what the public think of Hogan and his divorce and his reality show now, because there are still millions of Hulkamaniacs who look back on the old matches and remember Hogan in his prime.

Did You Know- Hogan is planning his own wrestling federation to rival the WWE, and says he has raised $40 million of the $80-100 million he needs to "revolutionize the sport of professional wrestling."
1. BRET "THE HITMAN" HART (music)
Real Name: Bret Hart

Nicknames/Catchphrases: The Excellence of Execution, the Best There Is, Best There Was, Best Therever Will Be

Finishing Move: The Sharpshooter

Number of WWF/WCW World Titles: 7

Hulk Hogan was responsible for getting people interested in the cartoonish version of pro wrestling, where giants on steroids did the fighting. After his reign in the 80s/early 90s, the mantle was passed to Bret Hart. The Hitman changed the direction of the WWF into one more focused on technical ability and good storytelling. To him, you didn't need guys who were 6'8" in order to sell tickets. You just needed wrestlers who knew how to entertain the crowd through ability instead of gimmicks. It was with this hard work ethic that the Hitman stayed on top of the wrestling world in the mid-90s. Even though the fans loved him to death, there were those who thought his brand of wrestling was boring. It didn't matter that he was the most technically gifted wrestler in the business, so the WWF started grooming Shawn Michaels to be the franchise. Bret Hart was most proud of three things during his career in pro wrestling. He never injured himself or another wrestler through a mistake (a miraculous feat considering how often it happens to others. Remember when Bill Goldberg's misplaced superkick ended Hart's career?). Also, he only once missed a scheduled appearance, and that was due to flightd delays. Finally, unlike the other prima donnas in the business (Austin, Hogan, Flair), Hart never had a problem with losing a scripted match, with one exception.....The Montreal Screwjob. When Hart agreed to leave for the WCW, his final match would be a title bout against Shawn Michaels. Everyone agreed on Hart winning the match and then vacating the title, but on the night of the fight, Vince and Shawn conspired to change the outcome of the match. Shawn Michaels had Bret Hart in a sharpshooter and McMahon ordered the ref to ring the bell as if he had submitted. Michaels won the title and got out of Dodge, while Hitman was left to stew in the ring. He spit on Vince McMahon and later confronted him in his office, delivering an upper-cut that, according to the Hitman, would rival the Buster Douglas KO of Mike Tyson. Unfortunately for the Hitman and his fans, WCW never really knew what to do with him, and the concussion he suffered from Goldberg ended his wrestling career. He suffered a stroke in 2002, recovered fully, and is now chilling at his home in Canada with no regrets. He was inducted to the Hall of Fame in 2006.

Did You Know- Bret Hart has always been very honest and candid with his past in pro wrestling, so watch his DVDs and read his books, because you'll get an insight into the business that you never thought before.