*Posted August 8, 2008*

10. Original Motion Picture Soundtrack – Singles
The original soundtrack to the film Singles is grunge from concentrate. It also features contributions from Paul Westerberg (his first solo material after the breakup of The Replacements), Chicago's The Smashing Pumpkins, and past Seattle rockers Jimi Hendrix and the Lovemongers (Ann and Nancy Wilson of Heart). It was released on June 30, 1992, at the high point of the trend. But it's slapped together so lovingly, like Cameron Crowe thought he was on to something that nobody got. He was sorely mistaken.
The soundtrack is considered to have helped open the door to the explosive popularity of Seattle grunge music in the early 1990s. According to Steve Huey, music critic, "Singles helped crystallize the idea of the 'Seattle scene' in the mainstream public's mind, and it was also one of the first big-selling '90s movie soundtracks (it went platinum and reached the Top Ten) to feature largely new work from contemporary artists...it's a milestone in the breakthrough of alternative rock into mainstream popular culture, neatly and effectively packaging the Seattle phenomenon for the wider national consciousness."
Singles is essential for that day or two after you watched Singles, days when you can't find your copy of Mother Love Bone, and for buttressing Pearl Jam elitism with the two B-sides on this album.
9. Screaming Trees – Sweet Oblivion
Troubled frontman Mark Lanegan's (sometimes Queens of the Stone Age member) sixth album with Screaming Trees toes the line of mainstream success, but doesn't have the darker, Drop D tone sludge that made the four horsemen (N, PJ, AIC, S) of grunge so famous. "Shadow of the Season" and "Nearly Lost You" were songs about dealing with crap, just like every other grunge song. The progression of the album works like stacking Lego bricks on top of one another—the transition is easy with little emotional investment. It was just cool to listen to in 1992, and possibly 1993, but beyond that, it was just cooler to say that you liked the Screaming Trees rather than to actually endure listening to a whole album. See: The Toadies, Seven Mary Three, and Sponge.
Sweet Oblivion is essential for hanging around grunge elitists, days when you're bored with your other iTunes albums, namedropping Mark Lanegan in conversation.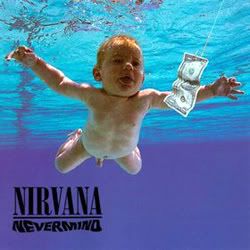 8. Nirvana – Nevermind
Spare me. I don't prefer this album, but it's among my library, just like the libraries of nearly every rock fan born from 1960 to 1985. This album is notorious for bearing the collective catalyst that made happy-being-underground bands like Screaming Trees, Tad, Mudhoney, and Silverchair famous. Because it's such a cultural fencepost in the American Rock Music zeitgeist, so little about it is remembered beyond "Smells Like Teen Spirit", and many folks think that this was Nirvana's first album (second, actually). Nevermind is in fact bolstered by a few incredible dirt-punk blasters like, "Breed" and "Territorial Pissings", and closes with the grimly insouciant, dark horse, "Something in the Way".
Without this album, we wouldn't have this list. We wouldn't have an adjective for the items on this list, and it's possible most of the items on this list would never have seen the light of day.
Nevermind is essential for: junior high sleepovers, shooting pool in dive bars, and housepainting.
rel="colorSchemeMapping">
7. Melvins – Stoner Witch
The Melvins might not be the puzzle piece that fits in #8, but I'm jamming them in anyway because they're tremendous, and their material borders along what makes grunge grunge—sludgy tracks, scream-style vocals, and slow tempos. If Soundgarden are the grandpappies, then the Melvins are the great grandpappies (rocking 25+ years), and their protégés know it. Like the Meat Puppets, the Melvins suffered from brief fandom as a result of Nirvana namedropping. Stoner Witch, released in 1994, fuses the Melvins unmarketables with a dash of grunge tempo, the first track, "Skweetis" is smashed into your face with a sonic fist. It just gets better and stranger from there.
Stoner Witch is essential for woodworking, pouring cement, and laying tar.
rel="themeData"> rel="colorSchemeMapping">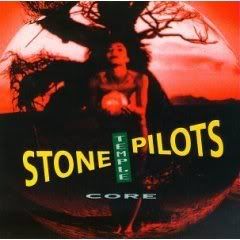 6. Stone Temple Pilots – Core
These bunch of wannabes put out their grunge-heavy first album in 1992 right in the middle of flannel shirts as high art. I don't blame them, either they are complete tools (see Velvet Revolver) or it was a happy coincidence (see their second album, Purple). Core chugged along predictably, and frontman Scott Weiland had all the right ingredients: Layne Staley's drug problem, Kurt Cobain's cheeky crossdressing, Eddie Vedder's juggernaut backing band. Opening with a range of the same chug-a-chug-a-chug-a worldly alienation songs, Core gets weird right around "Plush", the larger-than-life single that rocketed STP toward grungy fame. Or maybe, as it was released the same day as AIC's Dirt, they got another happy coincidence under their flannel-tied belts.
This album is a ridiculous 8 times platinum. These guys have since disbanded and reunited three times.
Core is essential for blisteringly hot days, cooking really shitty food, or cutting grass.
href="file:///C:%5CUsers%5CMelissa%5CAppData%5CLocal%5CTemp%5Cmsohtmlclip1%5C01%5Cclip_colorschememapping.xml" rel="colorSchemeMapping">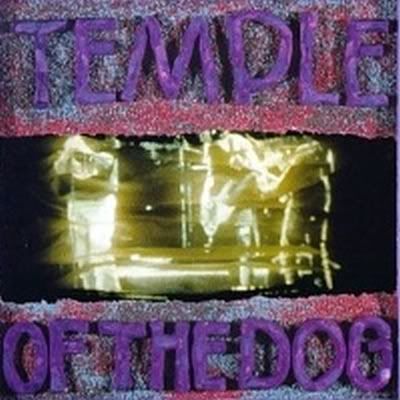 5. Temple of the Dog – Temple of the Dog
As a tribute to the aforementioned Andy Wood, his buddy Chris Cornell, some dudes in Andy's former band, and some weirdo gas station attendant from San Diego got together to churn out this beachy homage. But nobody really cared until Ten was released, making it Terminator to Ten's T2. The landmark "Best of Seattle" album took just two weeks to put together, including these recording highlights: McCready destroying "Reach Down", a 12-minute rocker featuring a solo jam so hard he thrashed the headphones off his head and continued recording for another 8 minutes; Ament requested a Pearl Jam sticker on the album's label to promote his new band (the record company refused), and two years later the record company made the same request to the band (the band refused, the sticker went on anyway); Cornell was having trouble getting the vocals right on "Hunger Strike", so Ed stepped in, and the song morphed into a duet.
Fun Fact: Without Temple of the Dog, we would have no Audioslave. Cornell is said to have noted that Temple of the Dog helped him keep his mind open about high-profile collaborations. That's either good news or bad news, depending on your camp.
Temple of the Dog is essential for the post-fight tension you have with anyone, driving south on interstates, and tailgating before sporting events.
rel="colorSchemeMapping">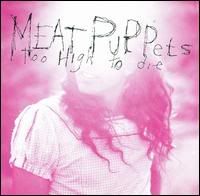 4. Meat Puppets – Too High to Die
The Meat Puppets suffer from being sponsored by Nirvana, always have. They toured together, Kurt cited their influence constantly, and Nirvana made the mistake of covering some of their lamest songs for their MTV Unplugged recording. As a standalone band though, Phoenix's Meat Puppets hold up nicely as the sunniest of the grunge bands, the Beach Boys of the grunge scene. Brothers Cris and Curt Kirkwood are on-again off-again brothers and heroin addicts whose eighth album finally garnered them commercial success and a dangerous bank account. Tensions basically destroyed their musical legacy, one peppered with tremendous fingerpickers complimented by twangy "cowpunk" harmonies. Their High-points on this album include the sing-songy "We Don't Exist", the guitar kaleidoscope of "Station" and the radio classic "Backwater".
On an interesting sidenote: I hung out with this band a year ago after one of their revival shows. Lead singer/guitarist Curt told me that he rather be bowling than doing these shows. The dude abides.
Too High to Die is essential for: cleaning the house in the afternoon, riding public transit, or barbecuing with people who still wear their pre-Nike Converse.
rel="colorSchemeMapping">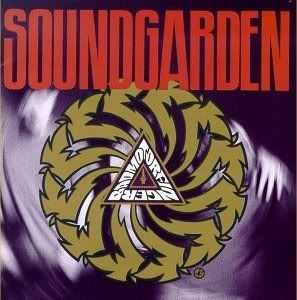 3. Soundgarden – Badmotorfinger
Soundgarden were the grandpappies of grunge (because I hold true that the title shouldn't go to Neil Young, as it so popularly does; remember, folks, he released a rockabilly album in the 80s when he was bored – not grunge.), dating back early 80s Seattle club shows that were whirls of big black curly hair and sonic destruction. Tracks "Outshined" and "Rusty Cage" are two great examples of how pace and mood in songs on this album set Soungarden apart from the grunge class, establishing their prescience into tonal layering and general badassery. A quote from Henry Rollins about this album sums it up: "I went to see Soundgarden live and watch Chris Cornell peel the paint off walls with that voice."
As for the songwriting process, Cornell said that he tried to not get too specific with his lyrics and was more interested in "creating colourful images." Guitarist Kim Thayil suggested that it is "like reading a novel about man's conflict with himself and society, or the government, or his family, or the economy, or anything".
Badmotorfinger is essential for: driving fast to weird places, basement parties, and anyone who thought Nirvana's songs were too punky.
rel="colorSchemeMapping">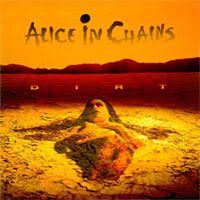 2. Alice in Chains – Dirt
While Pearl Jam had dreamy Eddie and those crazy eyes, Nirvana had marketable but odd Kurt and babyface Dave, Soundgarden had Cornell, with the hair and the abs, Alice in Chains hung out in the shadows on their second album, too dark and strange to roll with the mainstreamers, but too unique among their set to be overlooked. Fronted by a brat named Layne and saddled by a phenom named Jerry, Alice in Chains spat drugs, depression, and oblivion in your face with a smirk, embracing the discarded; if Nirvana was the band to pave the road for grunge, Alice in Chains was 3 miles behind with Dirt, ripping up the pavement with chords and solos and wails that melted rock radio. I have never been able to decide if the paint-splatter vocals or the muddy guitar wailing reigns supreme on this album—it's a duality that makes this album timeless.
We might thank the triple cocktail of oxycodone, heroin and xanax for this album: Layne on the two for most of the recordings (post-rehab, mind you) and Jerry on the latter to address his depression following the overdose death of fellow local rocker, Andy Wood.
Dirt is essential for: staying up until 4 a.m. working on homework, staying up until 4 a.m. working on a case of beer, and warm thunderstorms.
rel="colorSchemeMapping">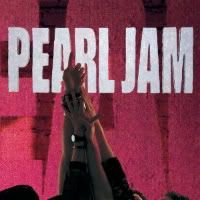 1. Pearl Jam – Ten
Ten essentially invented grunge, gave grunge an 11-track home. Jeff Ament, Stone Gossard, Dave Krusen, Mike McCready, and Eddie Vedder got together, played some basketball, slapped some high fives, and somehow put out an album that ebbs and flows so precipitously as to smirk at us, "we know how great this will still sound twenty years later." Tackling social issues such as neglect and mental health, Ten set the pace for post-grunge wannabes (see Soul Asylum's "Runaway Train") and the resurgence of the conscientious hippie culture on the cusp of the end of the Reagan-Bush Republican reign of the White House. High points include the staircase-ascending "Porch", the McCready fluidity of "Alive" and the seminal "Release", which was purportedly recorded to the master tapes as it's second live take ever.
Yet the band isn't really into it: Gossard once said, "It was 'over-rocked', we were novices in the studio and spent too long recording, doing different takes, and killing the vibe and overdubbing tons of guitar. There's a lot of reverb on the record."
Ten is essential for: night driving, snowboarding, and tailgating at 90's revival concerts other than Pearl Jam's.