*Posted November 11, 2008*
Some quick hit's about ESPN's Top 5 teams in the NFL right now.
1. Tennessee Titans (8-0)- Like the Steelers of 2004, the Titans rely on a quarterback that manages the game, a strong running attack, and a physically pounding D. Like the 2004 Steelers, I don't think the Titans are ready for the giant step towards a Super Bowl. They need to face some adversity first, and no, the Vince Young suicide scare doesn't count. Steelers will take them down.

2. New York Giants (7-1)- The defending champs have been strong all year and still have the swagger from last year's big upset. If we do see a rematch in the Super Bowl, the big question mark is how the Steelers will respond to the Giants pass rush. I'm not scared at all of Eli and Burress and Jacobs, but sacks will suck the life out of a team. They are the deserving favorites of the NFC.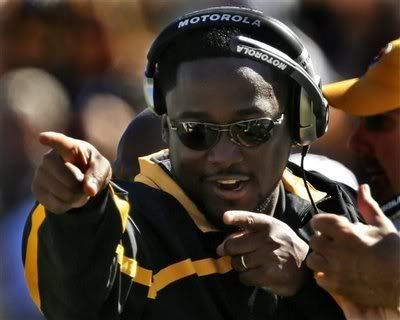 3. Pittsburgh Steelers (6-2) - They didn't just beat an NFC East for the first time this season. They pretty much demolished a strong Redskins team. No one has a better defense than the Steelers, and despite the hardest schedule that John Clayton has seen in decades, the Steelers are still flourishing. Combine that with a piss poor division and we can start looking forward to another playoff run.
4. Carolina Panthers (6-2)- The Panthers kind of snuck up on the Power Rankings, but they deserve to be here. They are finally at full-strength, but most importantly, their schedule is cake. Up next? The hapless Raiders and Lions. The Panthers seem to always be around the playoff picture. Will this finally be the year for them?
5. Washington Redskins (6-3)- They have the same record as my fantasy football team, but I like Dungy Kong's title chances much better. The Redskins are worn down by that stacked division, and they pretty much folded when it came to facing an elite team. The Steelers wiped the floor with them IN WASHINGTON. Any team that can stop the run can stop the Redskins.
Fun Fact: The Philadelphia Fagles are 6th on the list, which means that the NFC East has 3 of it's 4 teams in the top 6 of the Power Rankings. The collapsing Cowgirls have fallen to 19th.